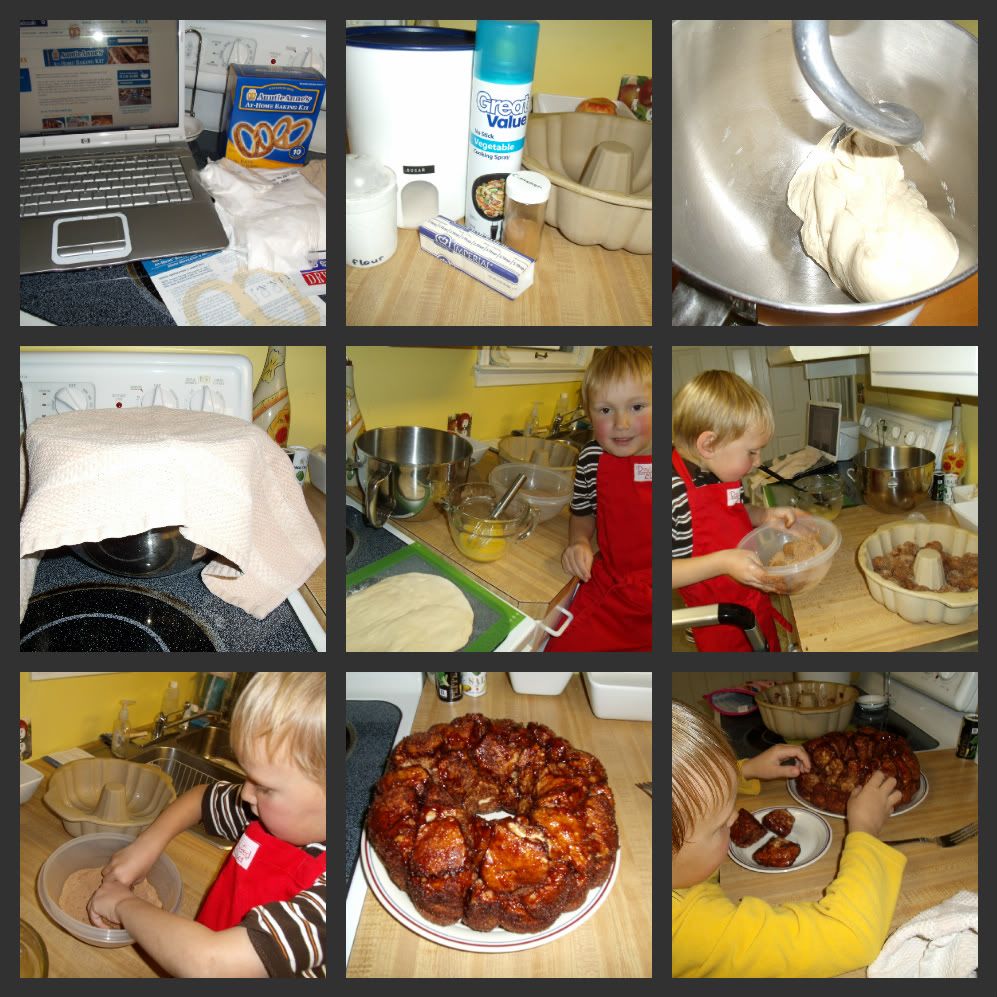 Auntie Anne's knows pretzels. Walk into almost any mall and you'll smell the baking dough of pretzels from the Auntie Anne's snack stands. They are fresh and oh so good! Now Auntie Anne's has a mix for your to make your own pretzels at home. The
Auntie Anne's At-Home Baking Kit
has everything you need to make your own delicious pretzels and more.
The
Auntie Anne's At-Home Baking Kit
has great step by step instructions to make your own pretzels. You can make regular pretzels with salt or cinnamon sugar pretzels. Everything is included in the box. And You can make more than just pretzels too.
Auntie Anne's
has lots of
recipe ideas
on their website that you can use with this kit. The possibilities are great!
As you can see by the photos, my son and I decided to make the
Auntie Anne's Monkey Bread Recipe
. It was so easy to do. The directions are very simple and you don't need many ingredients. Most of them are right in the kit!
To make Monkey Bread first we followed the directions for mixing the pretzel dough. I used the ones for my mixer. (It made it so easy to mix and stir with the dough hook in the mixer.) They you let the yeast dough rise in a warm place. I always put my bowl by the oven vent as the oven is heating up.
Then we set up an assembly line to prepare the monkey bread after the dough was risen and ready. I tore the dough into pieces and formed balls, then we dunked them into melted butter. Zachariah took them and rolled them in a cinnamon sugar mixture and placed then into the fluted pan. (You can see had this part down pretty well.) From there all we had to do was put it in the oven and wait for it to bake.
Only about 30 minutes later we had a delicious dessert. The monkey bread was sugary, cinnamon-y, sweet and yummy. As you can see, Zachariah had no problems digging right in for his bedtime snack. It met his approval. Matt did give it a try when he got home. He thought it needed some icing on top, but I'm afraid that would be too much sweetness. Maybe we'll give that a try, though. I like it as is. It's best when you eat it warm from the oven.
You can connect with
Auntie Anne's
on
Facebook
and
Twitter
. And you'll find videos on their
YouTube channel
too. The
At-Home Baking Kit
is available from
select stores and retailers
. This will make a great gift or fun recipe to take along to holiday get-togethers. You have to try this great product with your family!
*Disclaimer:

I wrote this review while participating in a

Blog Friendly PR

campaign on behalf of

Auntie

Anne's. I received a sample for my participation, all opinions are my own!*